VINYL WRAPPING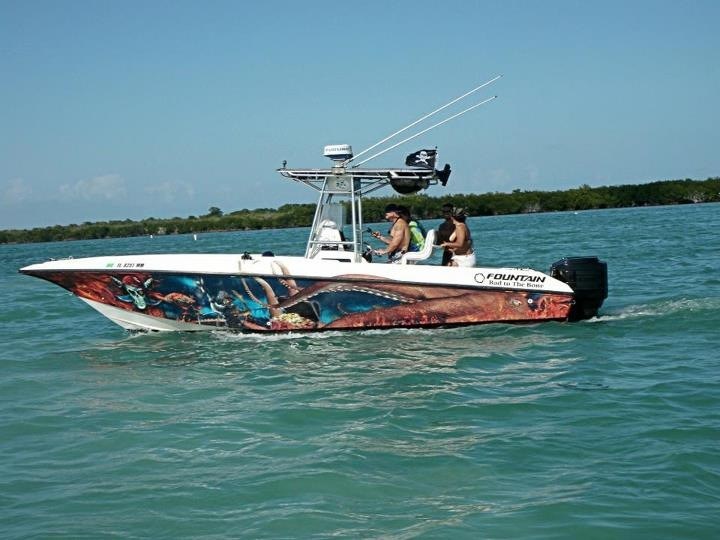 Vinyl boat wrapping has a number of advantages. First and foremost, it's economical. Compared to painting, vinyl wrapping can cost nearly two-thirds less than a professional marine paint job. Not only is vinyl wrapping cost-effective, it is also time efficient. Applying a vinyl wrap is a quick and easy process. A professional can usually complete the job within a few days. The maintenance that comes along with vinyl wrapping is also relatively simple. You won't need to buff or polish it and instead can simply use soap and water for a good, clean surface.
You may be wondering if vinyl wrap will harm the hull paint underneath. Not only will it not damage the paint, it'll actually protect it. Finally, vinyl wrapping is completely safe for the environment. There are no chemicals or solvents involved, making it a great alternative to toxic marine paints.
---------------
HOW TO APPLY A VINYL BOAT WRAP
Watch this video for a step-by-step tutorial on how to apply vinyl wrapping to your boat.
---------------
FAQS
Q: How long does vinyl boat wrapping last
A: Most vinyl wrappings will last you around 7 years, making it comparable to marine paint. The vinyl wrapping will not fade over time, however, and the marine paint will.
Q: Will the vinyl boat wrap lift or bubble?
A: If you have invested in quality vinyl and it was applied by a professional, it shouldn't lift or peel. Using the proper maintenance techniques will help with the life-span of your vinyl wrapping. It is recommended that you clean the boat wrap frequently (use soap and water). Avoid using high pressure water-blasting. This will most likely lift the edge of the vinyl wrap and force water underneath.
Q: Will the vinyl boat wrap fade?
A: Vinyl wrapping is less prone to fading than paint. The most common warranty lasts around 7 years.
Q: Will it damage the original paint?
A: A vinyl boat wrap will not damage the original paint. When removed, there shouldn't be any residual glue left on the hull.
Q: Can the vinyl boat wrapping be applied to any boat?
A: If the hull is in good condition, you can essentially apply a vinyl wrapping to any boat.
Q: Can I apply it myself?
A: Vinyl boat wrapping isn't a DIY project. To ensure the job is done right, you should have a qualified professional do it. When applying yourself, there tend to be bubbles and tears within the vinyl.
Q: How do I repair damaged vinyl boat wraps?
A: Repairing a tear is very easy. Cut out the flawed area and put a patch in it's place. Vinyl color does not fade, so the patch should match well.
---------------
To get your FREE boat insurance quote call us at 800-225-6560 or visit us at www.skisafe.com.