It's officially National Safe Boating Week! With boating season here, it's very important to practice safe boating protocols. Safe boating week is all about dedicating yourself to practicing safe boating protocols for the season. Here's the day-by-day breakdown:
--------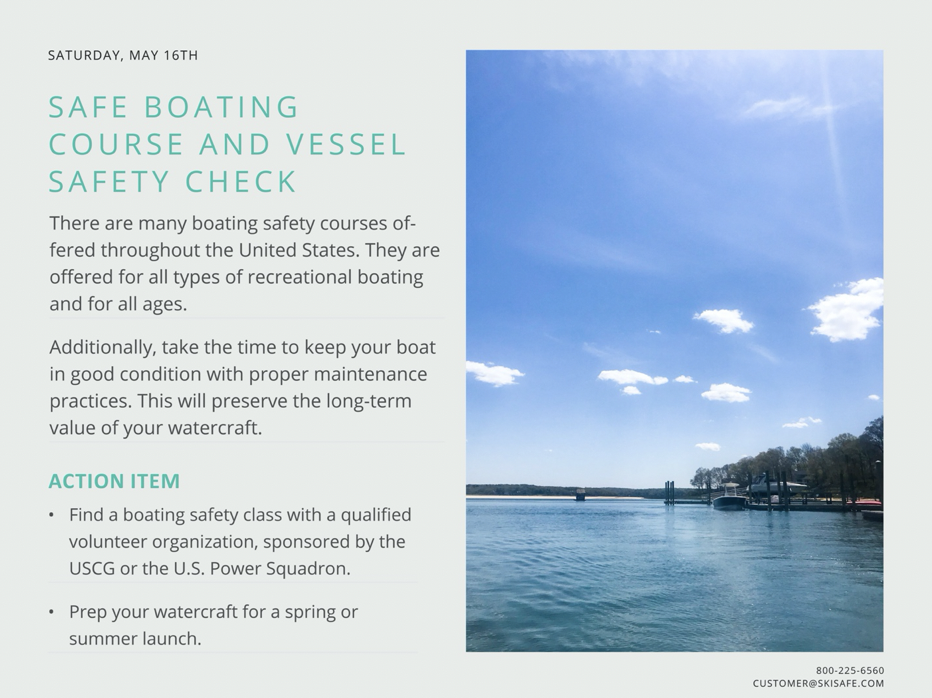 SAFE BOATING COURSE AND VESSEL SAFETY CHECK – SATURDAY, MAY 16TH
There are many boating safety courses offered throughout the United States. They are offered for all types of recreational boating and for all ages.
Additionally, take the time to keep your boat in good condition with proper maintenance practices. This will preserve the long-term value of your watercraft.
Action Item:
-------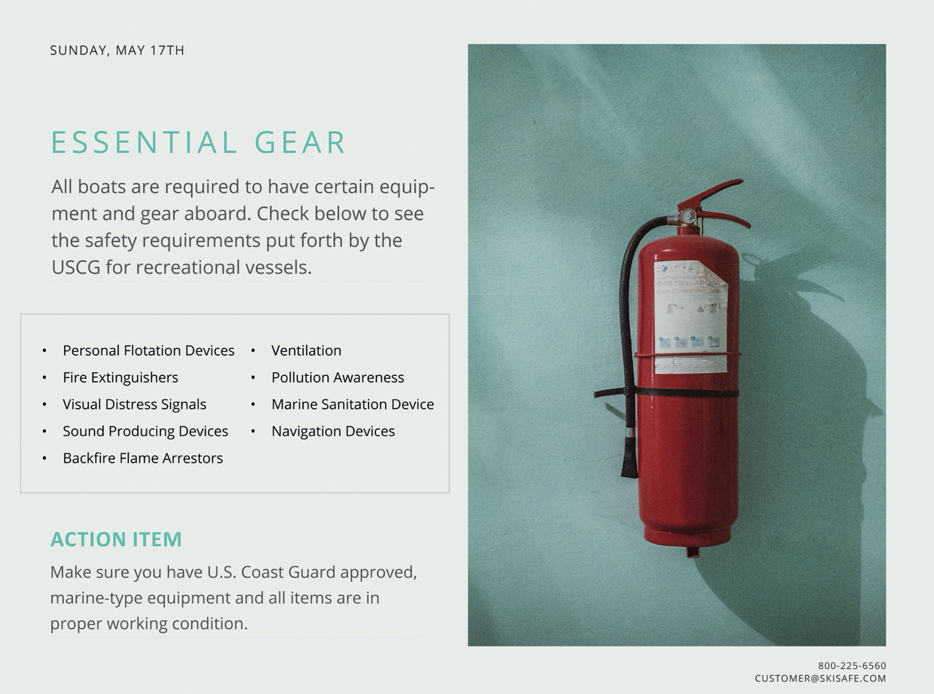 ESSENTIAL GEAR – SUNDAY, MAY 17TH
All boats are required to have certain equipment and gear aboard. Check below to see the safety requirement put forth by the USCG for recreational vessels:
Personal Flotation Devices
Fire Extinguishers
Visual Distress Signals
Sound Producing Signals
Backfire Flame Arrestors
Ventilation
Pollution Awareness
Marine Sanitation Devices
Navigation Devices
Action Item:
Make sure you have U.S. Coast Guard approved, marine-type equipment and all items are in proper working condition.
-------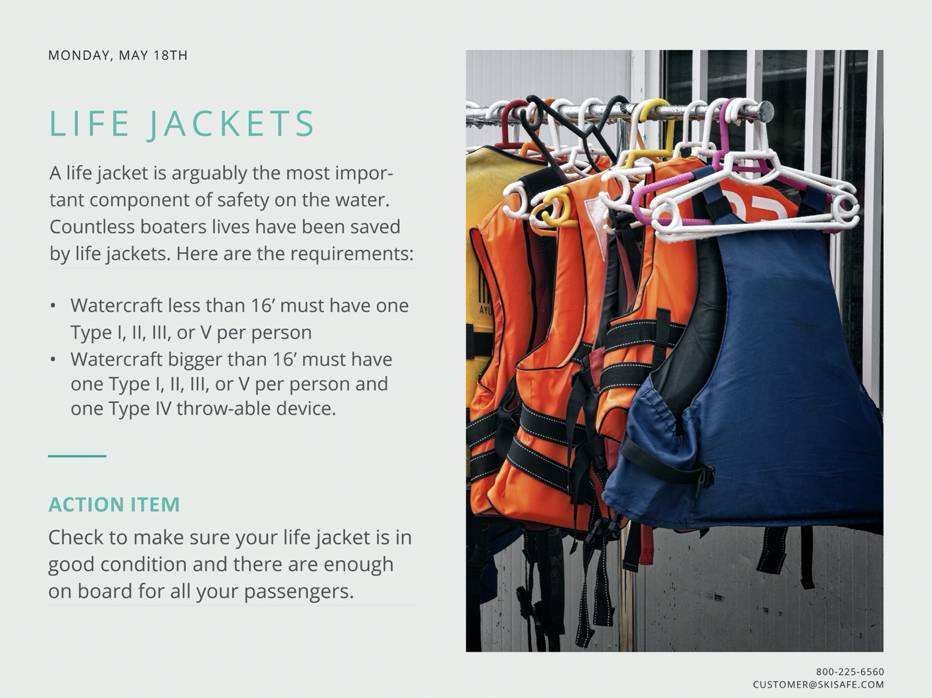 LIFE JACKETS – MONDAY, MAY 18TH
A lifejacket is arguably the most important component of safety on the water. Countless boaters lives have been saved by life jackets. Here are the requirements:
Watercraft less than 16' must have one Type I, II, III, or V per person
Watercraft bigger than 16' must have one Type I, II, II, or V per person and one Type IV throw-able device
Action Item:
Check to make sure your life jacket is in good condition and there are enough on board for all your passengers.
-------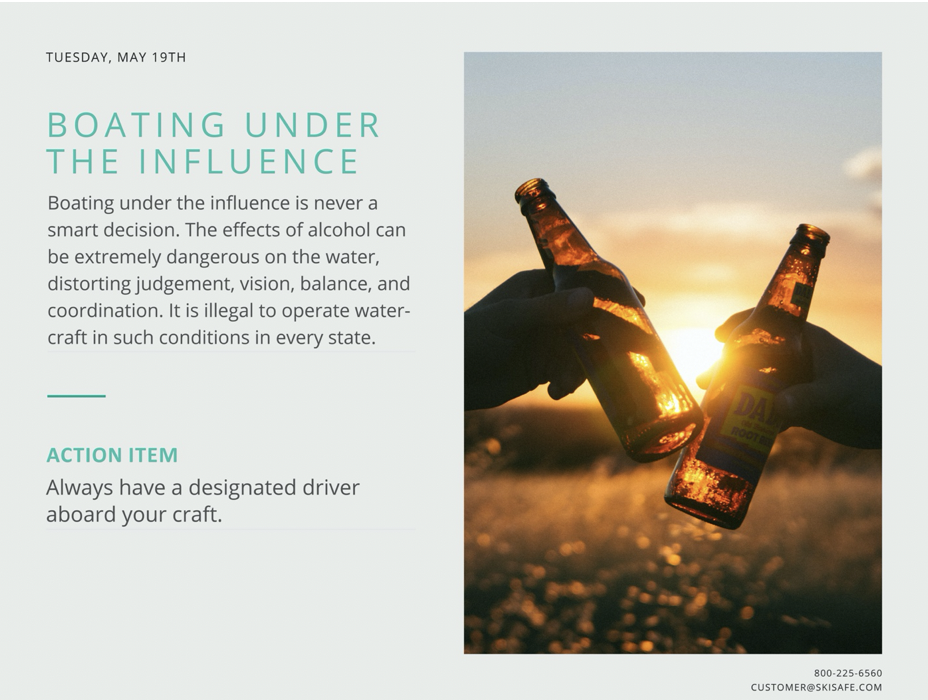 BOATING UNDER THE INFLUENCE - TUESDAY, MAY 19TH
Boating under the influence is never a smart decision. The effects of alcohol can be extremely dangerous on the water, distorting judgement, vision, balance, and coordination. It is illegal to operate water-craft in such conditions in every state.
Action Item:
Always have a designated driver aboard your craft.
-------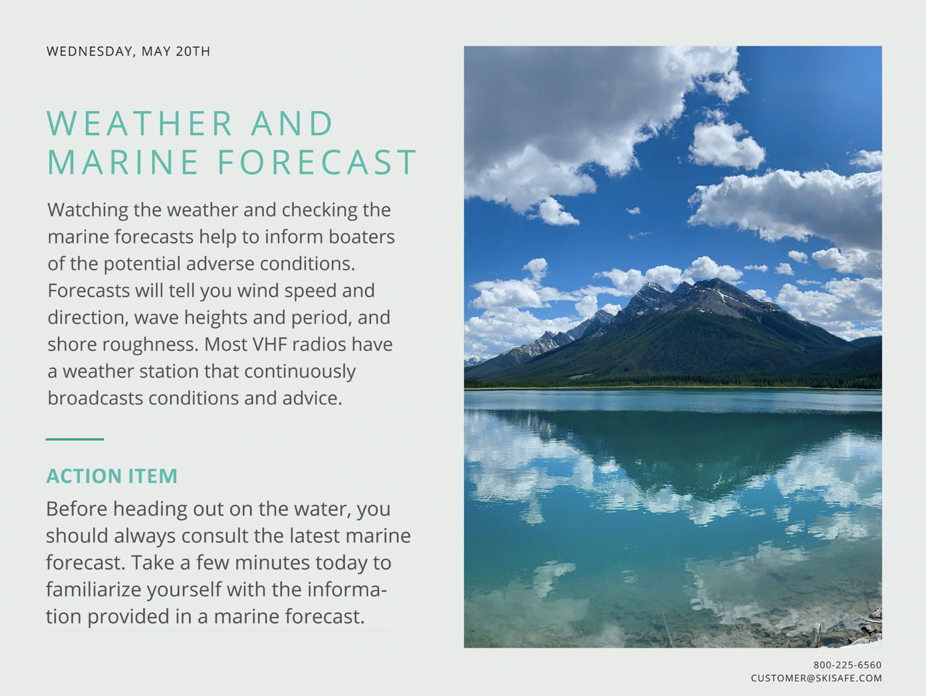 WEATHER AND MARINE FORECAST - WEDNESDAY, MAY 20TH
Watching the weather and checking the marine forecasts help to inform boaters of the potential adverse conditions. Forecasts will tell you wind speed and direction, wave heights and period, and shore roughness. Most VHF radios have a weather station that continuously broadcasts conditions and advice.
Action Item:
Before heading out on the water, you should always consult the latest marine forecast. Take a few minutes today to familiarize yourself with the information provided in a marine forecast.
-------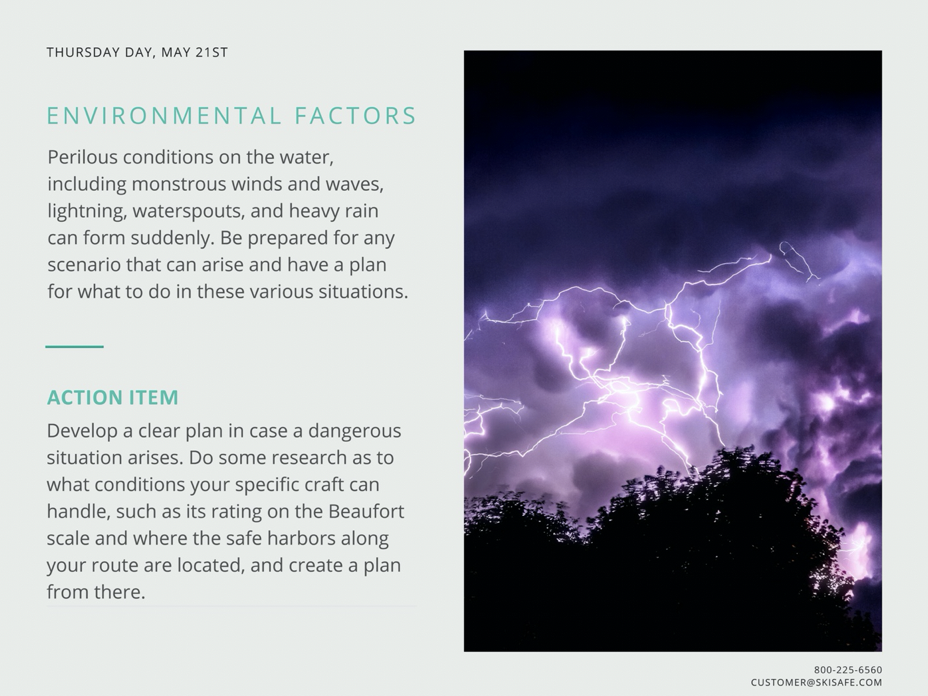 ENVIRONMENTAL FACTORS - THURSDAY DAY, MAY 21ST
Perilous conditions on the water, including monstrous winds and waves, lightning, waterspouts, and heavy rain can form suddenly. Be prepared for any scenario that can arise and have a plan for what to do in these various situations.
Action Item:
Develop a clear plan in case a dangerous situation arises. Do some research as to what conditions your specific craft can handle, such as its rating on the Beaufort scale and where the safe harbors along your route are located, and create a plan from there.
-------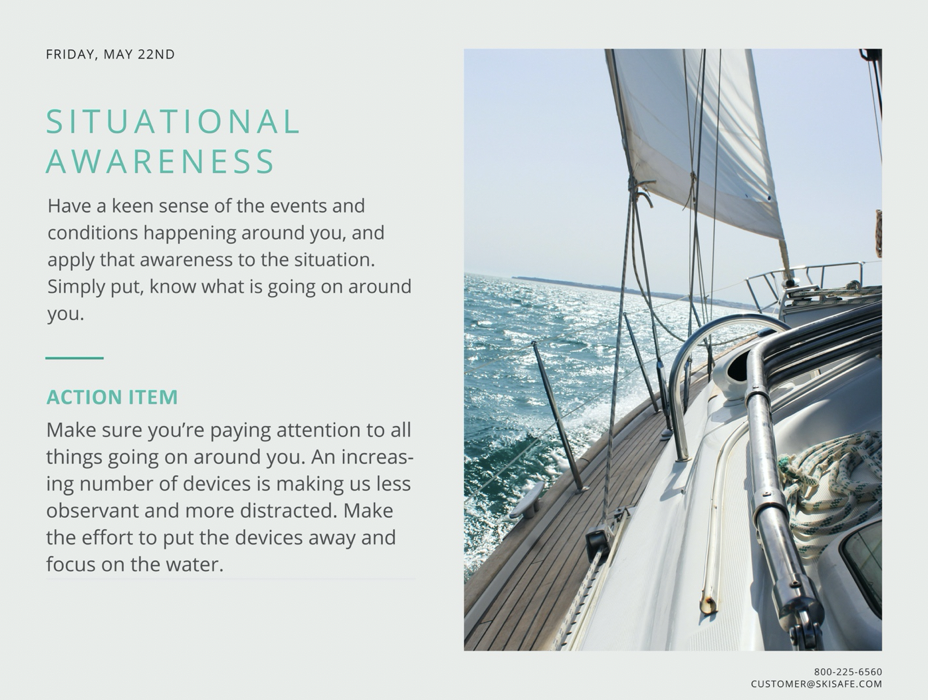 SITUATIONAL AWARENESS - FRIDAY, MAY 22ND
Have a keen sense of the events and conditions happening around you, and apply that awareness to the situation. Simply put, know what is going on around you.
Action Item:
Make sure you're paying attention to all things going on around you. An increasing number of devices is making us less observant and more distracted. Make the effort to put the devices away and focus on the water.