BIMINI FABRIC OPTIONS
There are a variety of bimini fabric options available. We will go through the pros and cons of each. Keep in mind – the goal is that your top will be water repellent, UV and mildew resistant, and has the strength to withstand abrasion.
Vinyl/Polyester
Vinyl-coated fabric, usually polyester, is the most popular choice. Options include Stamoid, Top Gun, and more.
Pros: water repellent, abrasion resistant, easy-to-clean, and durable
Cons: vinyl/polyester will fade faster than an acrylic
Sunbrella/Acrylic
Sunbrella is made of a high-quality soft woven fabric.
Pros: fantastic fade resistance and holds up well with UV rays
Cons: prone to leakage, not as resistant to abrasion as other fabrics, and more expensive
Cotton Duck
Pros: inexpensive
Cons: prone to UV degradation and leakage
A BIMINI'S STRUCTURE
The frame is available in either aluminum or stainless steel. If you are boating in freshwater areas, aluminum is a good choice. Aluminum is more economical and will be able to withstand freshwater conditions.
Stainless steel, on the other hand, is much stronger and therefore more expensive. This option should be used when boating in saltwater areas. It can withstand higher winds, allows boaters to travel at faster speeds, and it will not corrode. Stainless steel is preferable for powerboats as well.
The tubes of the frame should be held together by high-grade, stainless steel fittings rated either 304 or 316. While both are durable, the 316 grade contains molybdenum which will make it more resistant to corrosion and therefore preferable, but also more expensive. By comparison, brass fittings are the least expensive but have a high tendency to corrode and break.
--------------
DODGER EXTENSIONS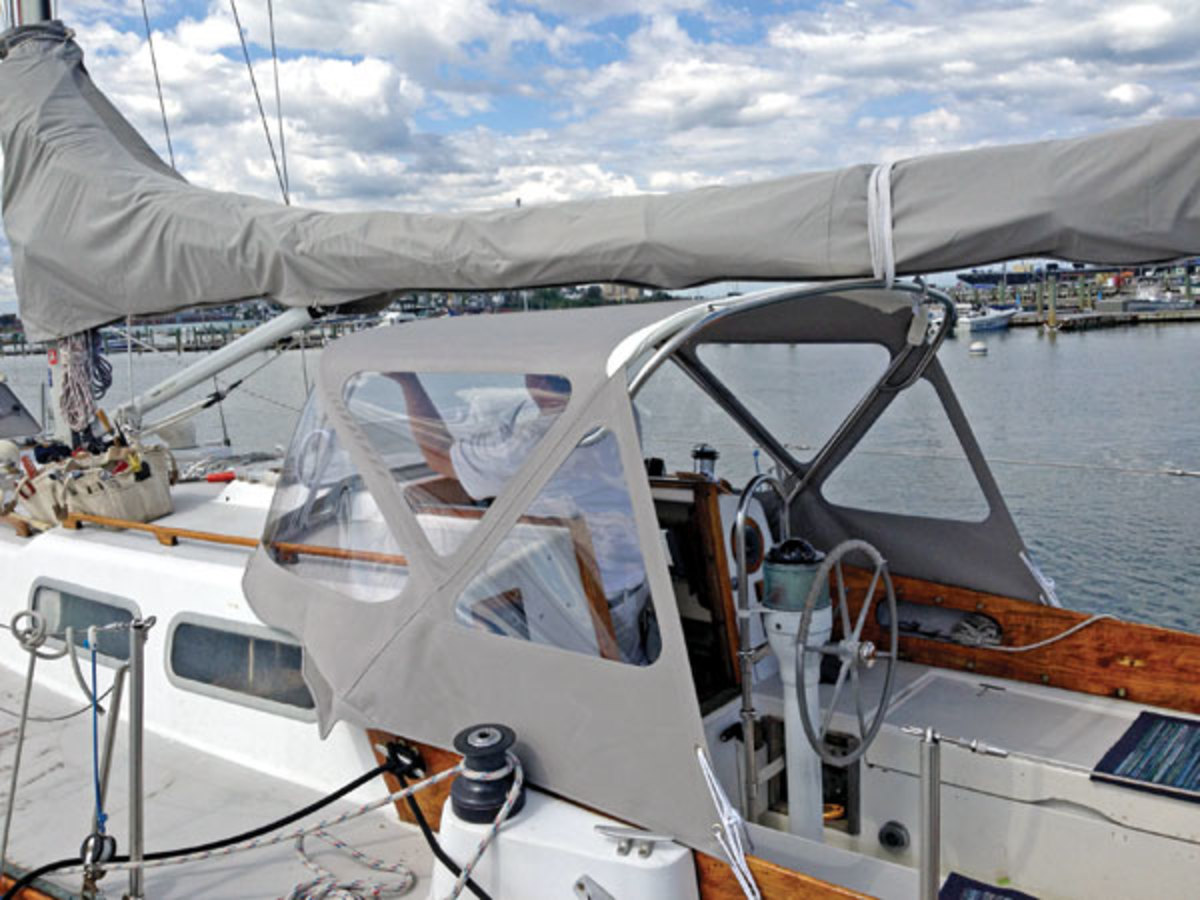 A bimini is an open-front canvas top, while a dodger extension provides additional lateral protection. Both biminis and dodgers are durable and versatile. They are made to protect your cockpit, interior, and entrance during the summer months only.
---------------
STORAGE RECOMMENDATIONS
A bimini top should be stored during the off-season. While preparing your watercraft for the winter layup period, it is highly recommended to do the same for your bimini top. Such maintenance will help ensure long-term use. In addition, you should thoroughly clean and dry the top before storing.
Remember – your bimini should not be used to winterize your boat. It will not provide protection from harsh weather conditions which would subject both your watercraft and bimini to severe damage.
If you need a reminder on shrink wrapping and the proper method to winterize your craft, click here.