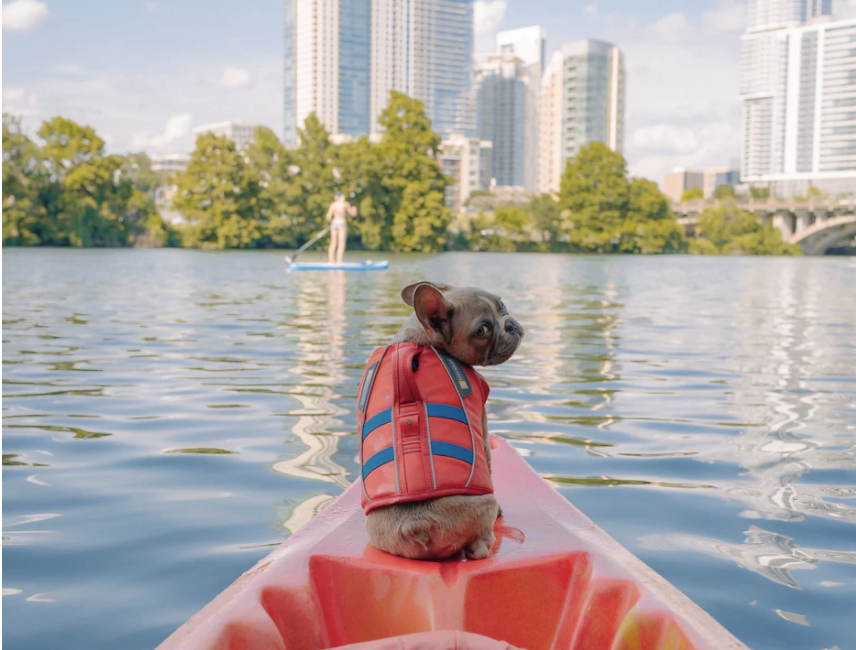 Boat Accessory Must-Haves
Whether a new or experienced boat owner, there is a laundry list of items you should always bring aboard. Here is a list of some standard equipment must-haves for any boat type.
Life Vests
Life vests are an absolute must. Not only are they required by the USCG, but they can literally save lives in a time of distress. Always bring enough life vests for the number of guests aboard your watercraft. The life vest itself should be USCG-approved. You can easily find many options on Amazon and with 2-day shipping, it'll be on your doorstep in no time.
Handheld Horn
Always keep a handheld horn on board for backup. If the horn on your boat breaks, this handheld form will be a necessity. It is crucial to be able to alert other boaters on the water or in case of an emergency. Again, Amazon will be your best friend here. There are many powerful options meeting an 120db signal that abides to USCG requirements.
First Aid Kit & Marine Safety Kit
Always keep a well-stocked first aid kit onboard. You can also purchase a marine safety kit containing flares, Band-Aids, tools, whistles and more. Even with the bandages included in marine safety kit, it's still important to have a full first aid kit available.
Fire Extinguisher
You are legally required to have a fire extinguisher onboard. Make sure it's charged and usable. You will need a marine-specific fire extinguisher, rather than a generic one.
Paddle
In case of engine failure, a paddle or two is a good backup plan. If you have a large boat, this obviously will not be feasible. But for smaller boats, especially those on lakes, it's a great backup that fits in small spaces and is very affordable.
Jump Starter
If something happens with your battery, a jump pack could come in handy. It can also work for other charging needs like marine electronics or even your phone.
Dock Lines
You will definitely need dock lines to tie up on a dock, marina, or dockside restaurant. It's good to keep a few extra lines stowed away on your boat. Without proper dock lines, you are risking damage to your vessel or to others. You'll want your lines to be both durable and flexible.
Anchor
All boats need an anchor. This will ensure it will not go anywhere while not in use and the engine isn't running. Different anchor types work better depending on the water you're navigating. It's a good idea to put some research into which anchor is right for you.
Fenders
Boat fenders, or boat bumpers, make sure your boat does not bump into things when rocked by waves. They are commonly used when tied up to a dock or even another boat. Fenders vary in size for different sized boats.
GPS
When boating in unfamiliar waters, a marine GPS navigation device can be very useful. Not only will it provide location services, but it also provides a depth measure and fish finder. Let's say you are in shallow water. This often comes with large obstructions like rocks or logs. The depth feature in your GPS can warn you of these perils.
VHF Radio
A VHF radio is required to be on your vessel. It is used to communicate between vessels or emergency services on land like harbors, locks, bridges, or marinas. It's very important to have the ability to communicate with other operators. They are linked via channels that are designated for different purposes.
Navigation Lights
Navigation lights are used for situations of low visibility brought on by conditions like fog or heavy rain. They are also useful during sunrise or sunset. They are vital for visibility purposes. It is required that you use a white light, as flashing red and blue lights are designated for law enforcement vessels.
Binoculars
A good pair of binoculars is a good resource for spotting things far away and looking out for objects approaching you. You'll want ones that are waterproof and that can float.
Tow Lines
Tow lines are used for a variety of water sports like water skiing, wake boarding, and other activities. If your boat partakes in these water sports, you'll need tow lines on board. Make sure you get the proper tow rope length for the planned activity.
Cooler
A cooler is essential for storing your food and water during a boat trip. We can't emphasize enough how important it is to stay fueled and hydrated while on your boat. A boat outing often comes with hot weather and sunshine beating down on you.
Bluetooth Speaker
What's better than a beautiful day out on your boat with your favorite song playing in the background? A bluetooth speaker allows you to play your music without killing your battery.
Sunscreen
Bring lots of sunscreen! It's important for any outdoor activity, but especially when spending the day on the water. Make sure it's waterproof and is reapplied every few hours.