Boat Motor Maintenance Tips
Every boat, no matter the size, needs to be maintained. Luckily routine maintenance pays off and helps get your boat ready for the season. To ensure the safety of your boat and its passengers, read about how to maintain a boat motor, and other boat motor maintenance tips below.
How to Maintain A Boat Motor:
Water Pump Impellers
Inspect your boat's water pump impellers for signs of aging including rust and cracks. Over time the rubber impellers can dry and crack. A marine shop can easily examine these impellers on outboard motors and out drives. A small piece of rubber broken off of an impeller can cause major overheating problems.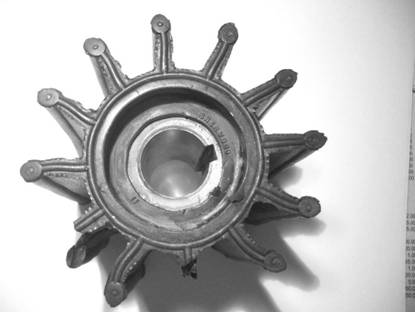 This is a water pump impeller. Notice the broken impeller blades. A small problem with the impeller can trigger much larger problems with the machinery.
Tune Your Prop Shaft
Regularly examine your propeller shaft to confirm that it turns freely. A shaft which turns very stiffly could indicate problems with the your engine's alignment, strut, engine mounts or a bent shaft. You should have a marine repair shop examine and repair a stiff prop shaft.
Check Engine Hoses
All engine hoses should be checked periodically. If the hoses are starting to crack they should be replaced.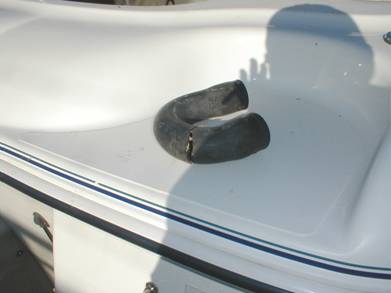 This water pump hose cracked while the engine was running. The cracked hose caused the engine compartment to fill with water. The boat owner is pointing at the tape to show how high the water rose before they were able to return to the dock.
Check Propeller Shaft Stuffing Box
Check your boat's propeller shaft stuffing box for leakage. Improper adjustment or wear and tear can cause the standard adjutsable stuffing box to leak. The seals on dripless stuffing boxes can be damaged if the engine is improperly aligned. You should check your stuffing boxes both while docked and while the boat is on the water. You will want to consult a qualified marine repair shop upon detecting any leak because this can cause your boat to sink.
Check for Fuel Smell
If you have an inboard engine, open the engine compartment. There should be no fuel smell. If you smell fuel, there is a a leak on the engine. Leakage can occur around fuel lines, fuel filters, carburetors and fuel tank fittings. If you smell fuel immediately contact a qualified marine repair shop to inspect your boat for leaks.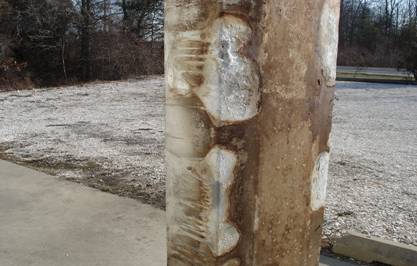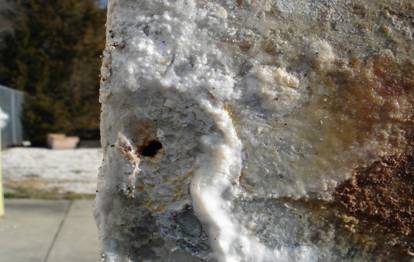 These are photos of an aluminum fuel tank that was leaking. The bottom photo shows a hole in the tank. The white substance is foam used to mount the tank in the hull. The foam congealed the leaking moisture around the tank and the aluminum deteriorated because of corrosion. The tank was mounted under the deck and therefore undetectable by a quick visual inspection. In this case the smell of fuel in the boat would alert you to a potential leak on the engine. That's why it's important to keep up with boat engine maintenance.
Manifolds and Exhaust Riser
Inspect your inboard engine's exhaust risers and manifolds for leakage. Leaking exhaust risers can allow water to seep into the engine. Rust stains and corrosion on the exhaust risers and exhaust manifolds are also evidence of a leak. While the risers and manifolds permit a small amount of leakage due to their metal parts expanding and shrinking when they heat and cool, anything excessive is worth investigating further. Boat manufacturers recommend periodically replacing the exhaust risers and manifolds to guard against leaking.
Universal joints, shift cables, and exhaust bellows
Check the U-joint, shift cable and exhaust bellows on outdrives and replace as needed. U-joints and the rubber bellows that protect the u-joint, shift cable and exhaust bellows are subject to wear and tear. They will gradually deteriorate causing leaking and possible sinking. The rubber bellows can also be damaged by debris in the water and animals. Periodic inspection of the rubber parts could save your boat.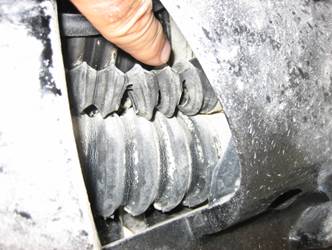 A torn shift cable boot in the outdrive. The rubber boot deteriorated over time due to wear and tear. This damage caused the boat to take on water and sink. It was easily avoidable by properly inspecting the outdrive and its cables.
Routine Boat Engine Maintenance Keeps It Running Longer
To keep your engine running longer, be sure to maintain your engine and sustain everyday wear and tear. Although you may routinely work on your boat, accidents happen and you need to be prepared for those situations with a reliable insurance policy.&nbsp Call SkiSafe today for a free quote!